Products
ENVIRONMENTAL TEMPERATURE CONTROL
Air-Conditioning Systems for Heavy Duty Trucks and Off-highway Equipment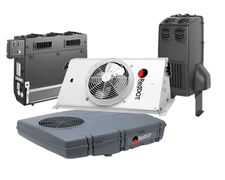 These solutions include complete A/C packages using both in-dash custom units and aftermarket systems utilizing individual components.

Auxiliary Heaters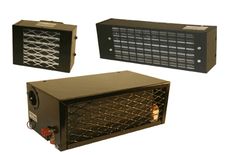 These units provide heat where and when you need it. They can either supplement your existing heater or provide the primary heating to any operator compartment.
Auxiliary Power Units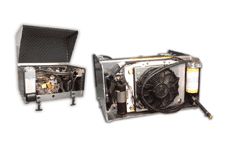 APU as they are called is essentially a generator combined with and air conditioning system to provide air conditioning and heating while eliminating engine idling. This system operates off a heavy duty truck type air conditioning compressor and a horizontal water-cooled Kubota single cylinder, 7 hp diesel engine.
NITE System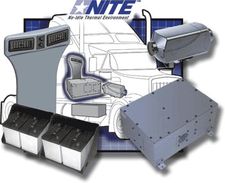 The NITE system combines a light weight, fully functional air-conditioning system and a compact air-heating system both designed to work independent of the truck's main engine. When used effectively, the NITE system virtually eliminates overnight truck idling. This system uses an independent dedicated set of batteries as its power source.
Bus Air-Conditioning Systems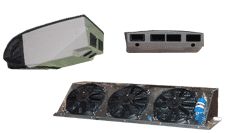 These systems are primarily used in school, airport or limousine type busses. These small to mid-size busses require a properly specified system.
Transair Mfg
Rifled Air conditioning
Air Conditioning Replacement parts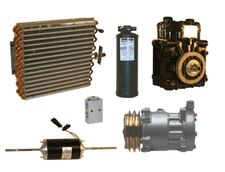 Are available through the original manufactures part numbering system or through our own Ross Air Works branded product. Our parts catalog in available in print or on line. The online version has been broken up into chapters so that is can load faster. This same technique has been applied to all our partners' catalogs that you will find here.
ENGINE TEMPERATURE CONTROL
Engine Monitoring Systems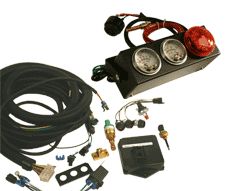 These systems provide engine protection for a variety of problems including high engine temperature and low oil pressure. These systems are optionally available to protect against low coolant level, high transmission temp, high oil temperature and low oil level. The most popular systems used are the Medallion 9054 pre-wired System and the Murphy WAI-2 temperature-pressures switch gauge system.
Temperature and Pressure Sensors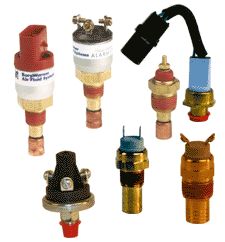 Fan Clutches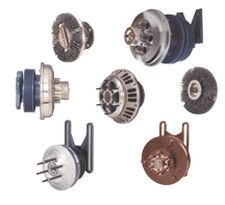 Ross Equipment Inc. diverse offering of fan clutches include On-off, multi-speed, viscous, direct controlled viscous fan clutches as well as direct drive fan hubs. We stock all the required replacement parts and controls including rebuild kits, temperature sensors, air solenoids and seal kits.
Engine Cooling Fan Blade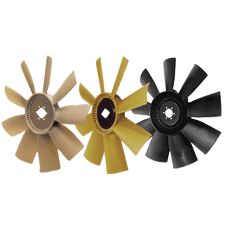 Ross Equipment Inc. offers a complete selection of fans designs to suit any customer requirement. Our unique method of distribution provide our customers an unparalleled order fill rate as well as access to all major engine fan manufacturers.
Belt Tensioner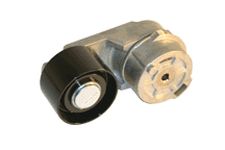 We have complete heavy duty line of belt tensioners in stock. Round spring technology maintains constant tension and system dampening for extended belt and component life. These belt tensioners are both longer lasting and less expensive. Ross Equipment Inc. provides a complete OEM cross reference.